Skip to Content
Denver Heat Pump Rebate in Denver, CO
Denver, CO Rebate Program
Since the launch of this program, we've been the #1 company to install heat pumps for Denver residents.
NOW Heating & Air prides itself on offering comprehensive rebate programs for a variety of products. Denver's Climate Rebate Program is back on the horizon, meaning NOW Heating & Air can deliver even more benefits to their clients.
If you have a heat pump that's eligible for one of these rebates, or are interested in finding out if a rebate-eligible heat pump is right for you, contact NOW Heating & Air today.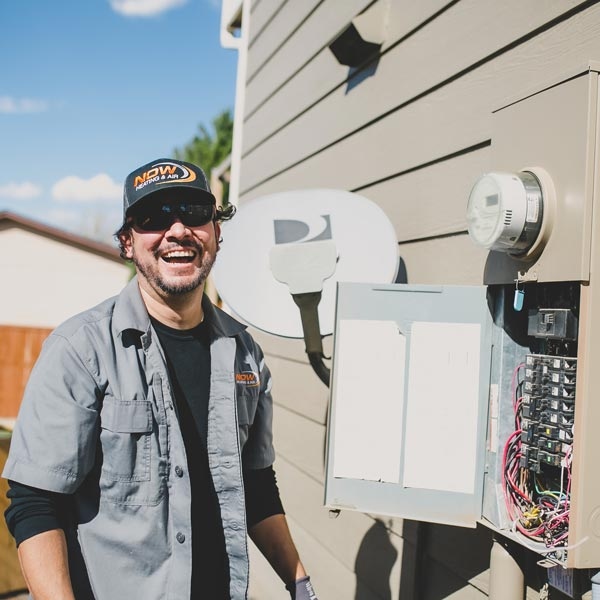 How Do Denver's Climate Rebates Work?
Denver is focused on encouraging its residents to switching to cleaner, greener options for heating and cooling their homes. The benefit of the rebate program is it can provide some financial assistance in purchasing these systems, since they can often be expensive to purchase and install.
The rebates are offered for nine pieces of equipment, with heat pumps being a prime candidate. Some of the rebates can cover up to 80 percent of the purchase and installation costs. Through this program, more than 130 energy-efficient heating and cooling units have been installed in Denver, and some heat pump water heaters have also been eligible.
1
Most Rebates Given in Denver
See What Our Customers Are Saying
I wanted to take advantage of Denver's heat pump rebates, so I called Now. Eric and Tera were helpful during the scheduling and lead up. Albert, Bobby, and Victor we're awesome on install day. Very happy with the service I've received!
What Heat Pumps Are Eligible for Rebate?
There are five different pieces of equipment eligible for the heat pump rebate. Each of them varies in cost and efficiency, which is measured in a multitude of ways. One of the most common ways to measure this efficiency is the Season Energy Efficiency Ratio (SEER). This is the ratio of the cooling output of an air conditioner across a typical cooling season, divided by how much energy it uses in Watt-Hours.
Other measuring sticks used to determine of a unit is eligible for a rebate are the Energy Efficiency Ratio (EER) and the heating Seasonal Performance Factory (HSPF). EER measures the ratio of BTUs per hour to the watts used to power the unit; and similarly, HSPF measures how efficiently a heat pump heats a space compared to energy usage.
This can be a lot of information, but NOW Heating & Air is here to answer any questions. Here's a closer look at each of those eligible units:
Air Source Heat Pump
These are typically found in homes with existing furnace and air ducts, and are usually installed with a gas furnace backup. The required efficiency rating on these units is at least 15 SEER, 11.5 EER and 9 HSPF.
Cold Climate Air Source Heat Pump
These generally go into homes with existing furnace and air ducts. They are typically fully electric or used with a high-efficiency furnace. The energy efficiency required to make it eligible for Denver's rebate is at least 18 SEER and 9.5 HSPF.
Cold Climate Mini-Split Heat Pump
This is a great option for homes with no air ducts or backup heating mechanism. The most common of these units is a wall-mounted unit that takes care of a single zone. They can be found for multi-zone use, but those can be harder to locate. These require efficiency ratings of at least 18 SEER, 11 EER or 9.5 HSPF.
Mini-Split Heat Pump
These are also typically found in homes with no air ducts. Again, these are commonly wall-mounted and are used for a single zone, but can be utilized for multi-zone use. The efficiency ratings required for a rebate are at least 15 SEER, 11 EER and 9 HSPF.
Electrical Service Upgrade
This isn't a heat pump, but an upgrade on an electrical panel to make it compatible with Air Source Heat Pumps or Mini-Splits can also be eligible. All-in-one panels are hard to find, and panels that have no space or require upgrading may also be eligible for this rebate.
Additional Information
Allocates $4.5 billion in grants to states and tribal governments for home energy improvement projects including point-of-sale heat pump rebates.
10-year program, administered through State Energy Offices, likely to start mid-2023.
Parameters of state-administered programs may vary.
Single-home maximum cost offset is $14,000
Caps per qualified equipment type:

$8,000 for a heat pump.
$1,750 for a heat pump water heater.
$1,600 for insulation, air sealing, and ventilation.
$2,500 for electric wiring.
$4,000 for an electric load center upgrade.
$840 for a stove, cooktop, range, oven, or heat pump clothes dryer.

Up to a $500 rebate is available for our contractors per heat pump installation.
ENERGY STAR® will be the criteria to qualify heat pump systems.
Designed to support low-to-moderate income (LMI) households

Example:

Households making up to 80% of local median income are eligible to receive a 100% rebate of up to $8,000 on the cost of heat pump installation.
Moderate-income households (making 80-150% of local median) are eligible for a 50% rebate up to the same limits.
E.g., To claim up to the cap of $8,000, must spend $16,000 in heat pump installation.
Households with incomes above 150% of local median are not eligible.

No stacking with other federal or state grants/rebates on same project. There are options for combining rebates. See possible scenarios below in the FAQ section.
HOMES Rebate Program
Provides funding to DOE for state energy offices ($4.3 billion) to develop and implement a rebate program to homeowners and aggregators for whole-house energy saving retrofits.
Based on modeled energy savings for single and multifamily.
Rebate levels:

Homes with energy reduction of 20% are eligible for maximum rebate of $2,000, or half the cost of the retrofit project (whichever is less).
Homes with energy reduction of 35% are eligible for maximum rebate of $4,000.
Homes with energy reduction of 35% and qualify as lower income (<80% of local median income) are eligible for maximum rebate of $8,000.
Energy Efficient Home Improvement (25C) Tax Credit
A 10-year extension and expansion of existing 10% tax credit to 30%.
Begins with tax year 2023 (January 1, 2023), claim credit on your 2023 taxes.
Up to $600 per item: breaker panel, insulation, fossil fuel systems (meeting elevated efficiency limits) with maximum of $1,200 tax credit.
However, tax credit increases up to $2,000 max when adding a qualified heat pump installation to the project.*

The heat pump system must meet or exceed the highest performance tier set by the Consortium for Energy Efficiency (CEE).**

Households may claim annually through 2032.
You can receive a tax credit and a rebate for the same project.
*Interpretation of this provision varies across media channels. We're actively pursuing a universally accepted interpretation.
**Efforts are underway to simplify the efficiency performance qualifications. Check back soon for updates.
So What Does that Mean?
The High-Efficiency Electric Home Rebate Program (HEEHRP) provides rebates up to $14,000 per household, including up to $8,000 for installing Energy Star qualified heat pumps, up to $4,000 for electrical panel upgrades, up to $1,600 for home insulation and sealing, and up to $2,500 for home electrical wiring improvements. Eligibility and the amount of the rebate depends on household income. For households below 80% of area median income, 100% of the system purchase price qualifies for the rebate. For households that fall within 80% to 150% of area median income, 50% of the system purchase price qualifies for the rebate. Households above 150% of area median income do not qualify for the HEEHRP rebate. The U.S. government appropriated $4.5B of funds for this program and will distribute the funds to state energy offices to administer the rebate program. The duration of the program will depend on the amount of funds available within each state and the number of rebates distributed.
Don't Wait on Your Rebate
Denver's rebate program for energy efficient cooling systems maxed out for the second time in the summer of 2022. They paused the program and were set to resume in late 2022 or early 2023. There's only a certain number of dollars set aside for this program, so getting your rebate filed as soon as possible is imperative to make sure you take advantage of the benefit.
Heat pumps are long-lasting, quality products, but they also come with a pretty hefty price tag. They can provide cost savings over the long run due to their efficiency, and Denver's rebate program provides a lot of value. For more information on heat pumps or the rebate program, don't hesitate to reach out to NOW Heating & Air today.
Denver's Premier HVAC Contractor for Homeowners and Businesses